Our top qualities are versatility and experience
Our production in mainly focussed on "gauge 22 " for the manufacturing of elegant, classical and fashionable socks in a wide variety of colours and features.
For the most prestigious and luxury items in silk, cashmere and for the "Vanise'"sock ( two colours rib) we still utilise our most traditional machineries, still perfect to obtain the best quality textile results for a really unique and precious product.
PERSONALIZED, CLASSIC OR SPORTS SOCKS
We have been producing men's socks for many years in private label for important stylists and prestigious boutiques, with many personalization possibilities, that allow us to satisfy every customer's request.
Our technical and design departement can reproduce logos or drawings following customer's wishes.
We can also produce promotional socks, both classic and sports.
Wide range of yarns and colors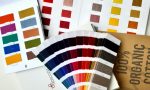 Do you have a shop and want to market our products?
Call us at the number +39 0322 85038
We have many items ready for delivery!