Calze Sabas
Manufacturing sports and classic socks since 1960.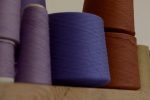 Calze Sabas
Precious Yarns
Our items have always been manufactured within our firm combining
extreme care for craft details and the use of advanced technology.
Our socks are produced with the use of the finest natural yarn and thread,
and can be placed in the medium-high level of the market.
1960 – Calze Sabas is born. Mario Sacchi, thanks to the experience gained in a hosiery factory in the province of Varese, with the collaboration of his wife Enrica, opens his own business for the production of women's socks.
 1970 – The production of men's socks begins, completely replacing that of women's socks. The Calze Sabas trademark was registered and the classic items, produced with quality wool and lisle cotton yarns, were soon appreciated by the market..
1980 – In the 80s the machineries available increases and allows for the proposal of different articles such as  jacquard and embroidery patterns. The search for the best raw materials on the market continues.
1990 – the ownership of the  company is trasferred to their sons Carlo and Guido who, with the same passion as their parents, bring enthusiasm and new ideas. Collaborations with important brands and stylists begin.
2000 – the technological evolution continues with new electronic machinery that allows the company to always create new items to expand its samples and to follow the fashion trends of the brands with which it collaborates.
2010 – from 2000 to 2010 the presence on foreign markets increased, representing about 40% of turnover
2017 – the ecommerce sales site is created with a large choice of items and colors. With over 500 references, it is one of the most complete online socks stores
2021 – restyling ecommerce…to be continued….
Artisan Manufacturing
The Production
Ever since the beginning of our activity we've been producing many classic plain items or with small jacquard patterns as well as embroideries, always cooperating with our clients for what concerns designs and accomplishment of any personalized requests.
Our daily production is around 3,000 pairs.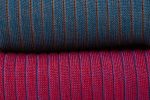 CALZE SABAS
Socks Production
Are you a reseller? Calze Sabas since 1960 has specialized in the production of high quality men's socks, both with its own brand and in private labels.
CALZE SABAS
Socks Filoscozia
MERCERIZED COTTON LISLE ("Fil d'Ecosse") Filoscozia® is a cotton yarn of the highest quality, produced exclusively from noble varieties of durable and naturally shiny extra-long staple cotton